Fundamental Tips to Learn English in a Short Time
When we want to learn a new language, time is an important part of the process. It is necessary to focus on what you want dedicate to your studies.
Here's a question: Do you check your phone at least once every ten minutes? Well, before you notice, hours have passed and most of your activities are not completely done. The lack of organization can stop you from staying focused on your professional, academic and even your personal life. For example, if you want to learn English and grow on your career, it is necessary to set a plan and get started. So, if you don't have a lot of free time, but don't want to be left behind, it is time for some action. Learning a language will depend on your efforts and, also your time.
METHODOLOGY
Choose a method of study that fits better in your routine, and define where and how you will do your daily preparation. It is always good to remember that the place should be quiet to avoid distraction. Another good tip: what was the best way to study when you were in school? Think about it and try to use those techniques that you know they work for you. To guide you through your studies, try to answer these three questions before you start.
30 MINUTES A DAY
To make your studies more effective, consider having a week schedule to keep track. And don't forget to try to use the language on your routine, separating at least 30 minutes a day exclusively for that. Do it every single day. No cheating! To make it easier, write down the dates and time on your personal calendar (or use it on your phone) set an alarm clock or any other tool to help you remember. Keep in mind that it is the recommended time so you can absorb better what you are learning without causing you problems with your other commitments.
#TIP: If something changes your schedule one day, change the time, but don't skip your daily studies. Staying focused is the key!
Organize your material
Invest your time on your notes! Write down the order in which you learn, in a notebook specific for that. Keep your studies flowing. Besides that, define what extra resources you will use to help you: apps, PDF's, e-books (remember to save them on your computer), podcasts, videos, movies with subtitles in English, songs, etc., these are all good ways to immerse in the language. With time and daily contact, you will memorize everything without the need of writing what you have learned.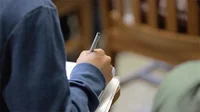 Quality Education
Always consider the possibility of starting classes to reach fluency in a Language. For those who can't organize their schedule and have discipline to study on their own, an onsite course can be the solution. You keep yourself motivated to learn and get to know other people who are there with the same goals as you. That way, you won't feel fear of making mistakes and will have professional guidance.
Look for a method that best fits your needs, so you can learn a language in a short time. Choosing a course that offers classes for small groups and flexible schedules can also be a great help on the process of acquiring a new language. Be prepared to include the language on your daily routine.
So, remember to respect your evolution and don't get discouraged if you face any difficulties. The important thing is to get organized to start learning and practicing English in an effective way, taking advantage of what the language has to offer. It is time to focus and start working!